DHAMUPUR: Embedded deep in the heart of Ghazipur district, it isn't easy finding your way to Dhamupur, especially if your driver is a rookie and the GPS isn't working. But mention Abdul Hamid's village and there's instant recall. Many in these parts of the east Uttar Pradesh hinterland still remember Hamid's heroism – how he destroyed Patton tanks in the 1965 Indo-Pak war and was posthumously awarded the Param Vir Chakra, India's highest gallantry medal.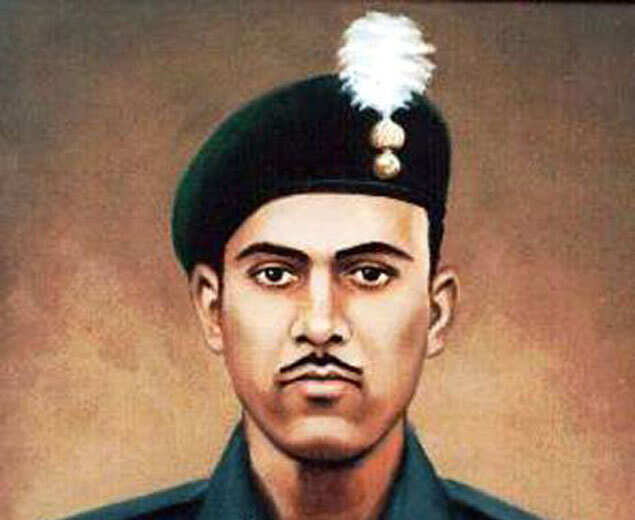 Who is Havildar Abdul Hamid?
Havildar Abdul Hamid, an Indian army soldier was awarded the highest military award, the Param Vir Chakra, for his bravery during the India-Pakistan War of 1965. At the Battle of Asal Uttar, Tarn Taran, Punjab on September 9-10, 1965, Hamid single handedly destroyed several seemingly impregnable Patton tanks and died in action
Sitting outside his modest home, below a neem tree with falling leaves, his grandson Mohd Washim talks about jobs, or their absence. A graduate with honours in anthropology, he slowly narrates his travails and travels to Jabalpur and Barasat, among other places, looking for a job in the Army. His relative, Bechain Ali, says, "Jobs are few. Some boys have gone to places like Gujarat, Punjab and Mumbai in search of work."


What about development in the village? Janardhan Yadav, the long-standing pradhan, says about 300 toilets have been constructed in recent years and quite a few households — he doesn't offer a number — have received gas cylinders. "But the MNREGA budget is down," he adds. 00:42
Abdul Hamid's grandson wants hospital promised by govt to be made
Washim, Bechain and Janardhan are united in the view that Ghazipur has progressed significantly under Manoj Sinha, who was minister of communications and junior railways minister in Modi's NDA government. Yadav says the railway stations have been beautified, the number of trains stopping in these stations has gone up, and Suheldev Express, a superfast train from Ghazipur to Delhi, rolled out in 2016. And the roads in Ghazipur district, even in the interior, are smooth.


People vote for caste here. 10-15% people vote for reasons of greed or fondness for a candidate
Janardhan Yadav, the long-standing pradhan of Dhampur
The trio isn't voting for Sinha though. "Most Yadavs, Muslims and Dalits will vote for the gathbandhan, referring to the SP-BSP alliance. "Yahan to jaati par vote hota hai. 10-15% swaarth ya lagao se kisi aur ko vote de sakte hain (People vote for caste here. 10-15% people vote for reasons of greed or fondness for a candidate," he says.


As per Census 2011, Ghazipur has 20% Dalits and 10% Muslims. Yadavs are over 20%, a local journalist estimates. "The key question is, how many Yadavs will vote for a BSP candidate?," wonders a local journalist on the phone, sceptical that a majority of votes will be transferred. BSP has never won the Ghazipur LS constituency before.


The buzz is that three-time MP and BJP politician Ramakant Yadav, who was denied a ticket in Azamgarh, might contest here from Jan Adhikar Party (JAP) and knife into a slice of Yadav votes. JAP is an ally of Congress and wields some influence among some OBCs, such as the Kushwahas.


Jobs are few. Some boys have gone to places like Gujarat, Punjab and Mumbai in search of work
Bechain Ali, Abdul Hamid's relative
Sinha is a three-time MP from Ghazipur, winning earlier in 1996 and 1999. This is the first time he faces the combined might of SP-BSP in LS polls. In 2014, he earned 3.06 lakh votes (31%) and won by about 32,000. SP had received 2.74 lakh votes (28%) and BSP 2.41 lakh (24.5%) which makes any challenger the odds-on favourite.


Four assembly seats in Ghazipur were shared between SP and BJP (two apiece) in the 2017 state polls. The fifth went to Suheldev Bharatiya Samaj Party (SBSP) which enjoys support of the Rajbhar community. SBSP could tie up with NDA for the coming LS polls.


Word is that BSP's Afzal Ansari, brother of jailed strongman-politician Mukhtar Ansari, could be the gathbandhan candidate. "When a candidate like him make a call, government officers listen and obey. That earns him popularity," says Janardan. Afzal won in LS 2004 on an SP ticket. In 2017, his party Quami Ekta Dal merged with BSP. The same year he won from Ghosi on a BSP ticket in the UP state polls.


Upper castes and many non-Yadav OBCs form NDA's core support base. Anuj Singh, a BTech student, says he will vote for BJP. But his father Omprakash Singh, a rich thakur farmer, won't. "I am a Congressman for life. But I still feel that a development-driven politician like Sinha should be re-elected," he says.


A few furlongs away, a group of young Dalits are chatting below a shed. There are 400 Dalit voters in the village, divided into sub-castes such as dushads and khatiks. "About 90% are BSP voters," says Upendra Kumar, a 22-year-old graduate. Interestingly, some are fans of Bhim Army's pugnacious Chandrashekhar Azad.
Ghazipur Lok Sabha seat
Comprises of five assembly seats. In the 2017 state polls, the BJP won zero seats, while the SP and BSP shared two seats apiece. The other seat went to Suheldev Bharatiya Samaj Party (SBSP).
Cattle menace worries many. Jitendra Paswan's bajra and potato, grown on half an acre, were chomped away. "The rich have erected boundary walls. What do we do?" he asks. Yadav recalls a recent incident when 80 cows were confined in the village school. "We called the authorities," he says. They were eventually taken away.


Over three and a half decades after his death, Hamid's memorial was erected in his village in 1999. In 2011, a bust was erected in its premises. His grandson Washim points towards a building. "That's the village primary health centre. It is under construction since 2016. The work stopped three-four months back," he says. One can only hope it takes less time to complete than his grandfather's memorial.