Where Hollywood's biggest names go for spiritual guidance and beyond.
Since I can remember, every year for my birthday, I would beg my parents for a reading with a psychic. A totally normal request, right? It may be a buzzy topic as of late—social media has spawned a whole slew of witches and intuitives (#WitchesOfInstagram has 2.9 million posts, for example)—but this has been the cornerstone of my life since I was born. And my mother, the creative director of Happy Noise and a natural psychic herself, wouldn't let me get a reading until I was 21. She couldn't find a genuine psychic, and what I learned from a young age is that the worst thing is to have an inaccurate reading. This, she said, could cloud your own intuition and cause your path to go off course. And you don't want that!
As with a lot of things, it can be tempting to go to someone you follow on social media, but in my opinion (and experience—because it's practically in my DNA), these aren't reliable sources. The less online visibility, the fewer followers or no presence on Instagram at all, the more I'm drawn in. With the recent surge of wellness ~everything~ in L.A., my hometown, I dove deep into my Rolodex to find the finest witchy wellness modalities. DM me what you think.
Fay Koliai
Fay, or Mama Fay, as she is affectionately called, has been a spiritual advisor for 25 years. Even with her impressive roster (which I have to keep hush-hush), Fay has managed to fly under the radar, dodging media requests, even from Oprah (!!), her entire career. This is her second interview in two decades. She said I was brought to her by the angels, but I have to disagree. I believe she was brought to me! Fay speaks several languages—she went to boarding school in Switzerland and is very refined, as well as incredibly chic (worth of a Cov closet shoot, but she's too unassuming for that). She began her career as a paralegal in Beverly Hills before a message she got for her facialist started a waiting list of clients. She has been one of the most sought-after psychics ever since.
Although she's fiercely protective of her clients, I can tell you if you think of an A-list celebrity or royal or billionaire, she's read them. If you're lucky enough to snag a spot on her long waiting list, you'll experience her inimitable readings using a plain deck of Hermès playing cards and channeling through the angels. Smart, kind, witty, and sharp (she is a Gemini, after all), Fay has a way of letting you know what you need right now. She works with universal timing, meaning whatever she says will happen in three to four years.
Fay is referral-only, and you won't find any of her info online (except here!), since she has zero social presence, and she doesn't have a website because, well, she doesn't own a computer. She doesn't travel and charges the same no matter who you are. She makes everyone—and I mean everyone—go to her office in Beverly Hills because the paparazzi would linger outside her home. She will most likely follow up with you after the session to keep you on the path of light. If there was ever a person to try to get on their books for a reading, she is it. It might take you years, but it will be worth it.
How to get in touch with Fay: Text or call 760.898.5440 and say Jaspre sent you.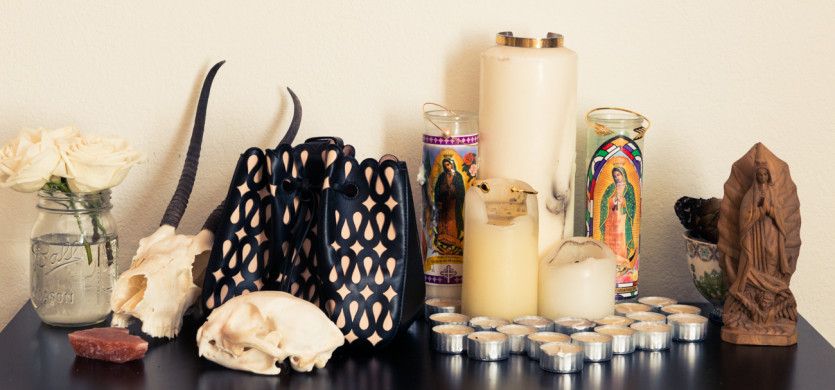 Aculand by Dr.Kara MoraMarco-Kendrick
1155 S. Beverly Dr.
Los Angeles, CA 90035
When I watched Katy Perry's "Never Really Over" music video, it was full of metaphysical references, which had me intrigued. She tagged the doctor who did the crystal face acupuncture and love cupping in the video. So I went to see Dr. Kara at Aculand in Beverly Hills. Dr. Kara is a unicorn of sorts, and her clients, she says, associate her with the unicorn talisman. Bright, cheerful, uber-educated, and skilled, the petite doctor greeted me in a pink jumpsuit. Pink is her color of choice and is used as an accent color throughout her office that, like fate, was originally built as an acupuncture space. Aculand has such a vibrating energy that you instantly feel better the moment you step inside.
Inspired by her mother and father, both doctors of Oriental medicine, Dr. Kara is a licensed acupuncturist and holds a doctorate degree in acupuncture and traditional Oriental medicine. She graduated summa cum laude at Emperor's College in Santa Monica. She developed and holds the patent of the "Love Cup," a heart-shaped cup made in Thailand. For my first experience with cupping, I went to the best. If you're not familiar with the process, here is how it went down: Dr. Kara uses fire to suck the air out from inside the cups to create the suction, and the heart-shaped cups are then placed strategically on your back, bringing toxins to the surface. Cupping has been used for centuries to help relieve back, neck, and muscle pain and have even been used to help cure the common cold. It was a strange sensation during the treatment, but afterward it felt like it released emotions I had bottled in. She followed the cupping by doing acupuncture on my face and body. I have had acupuncture before, but Dr. Kara was the most gentle I have ever had. And her technique of cosmetic acupuncture is a great alternative to fillers. The finale was putting crystal EarSeeds in pressure points in my ears. There was a visible difference in how I looked post-session and in my energy.
Pro Tip: If there is one supplement she recommended, it was ginseng. I loved the session so much that when my trip was extended, I begged for a follow-up. Try to get an appointment with Dr. Kara not just for the 'gram, but for better health.
How to get in touch: drkaraaculand.com and lovecupping.com.
4210 Santa Monica Blvd
Los Angeles, CA 90029
Spellbound Sky is likely my favorite shop in the entire world. Walking into the shop is almost like immersive theater. The brainchild of owners Mark Phillips and Martin Anguiano—who are always dressed in goth and play Cher or Stevie Nicks on the loudspeaker in the shop—are two of the most colorful, knowledgeable, and loving souls you will ever meet. After working in the fashion industry for over 20 years, Mark and Martin decided to bring their passion for crystals into a reality by manifesting a magical shop that makes crystals accessible. Because, let's be real, crystals can be intimidating. But these two will help you find anything you need at any price point. Plus, every crystal in the shop has been handpicked by them, so you know whatever you get will be good.
The crystals are color-coded, and each one is wrapped in a black box like a little treasure and comes with a card featuring its meaning. It is no wonder they have a cult celebrity following. Follow them on Instagram to see what is new and learn more about crystals. They recently launched their Gold Warrior and Silver Goddess Spellbound Sky candles, and it is really next-level for manifesting.
How to get in touch: Instagram/@spellboundsky.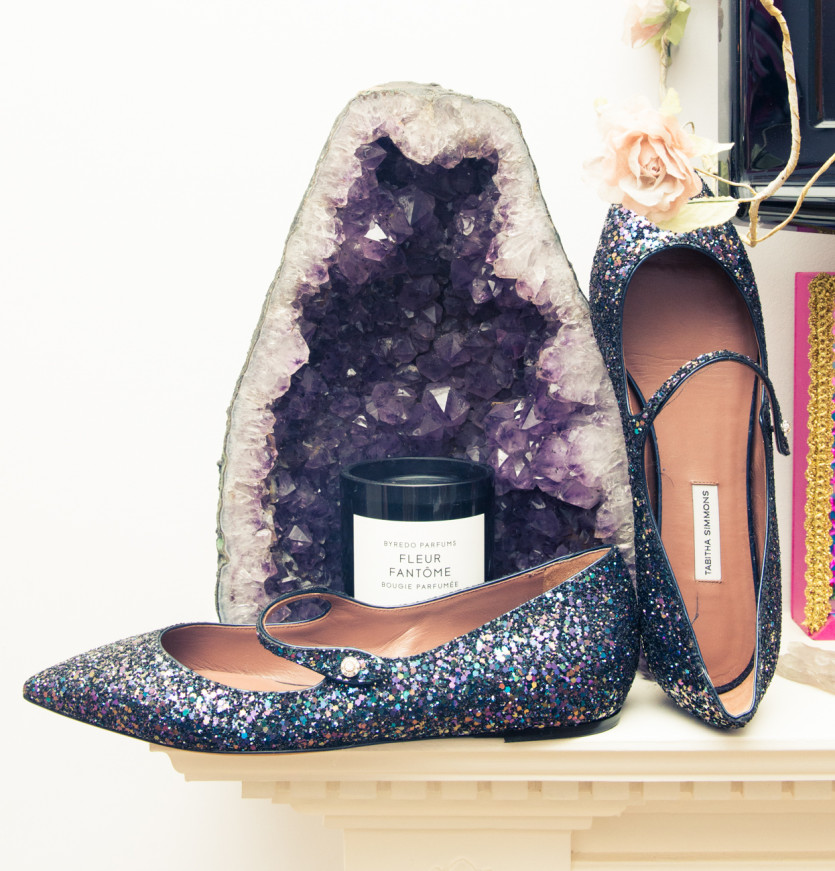 Mazz Hanna
Celebrity nail artist Mazz Hanna counts  Julia Roberts, Emma Roberts, Kacey Musgraves, and  Selma Blair as fans. A certified crystal healer and aromatherapist, Mazz creates custom crystal elixirs based on her clients' energetic needs. I met her at the Sixty Hotels in Beverly Hills for a Crystal Healing Manicure—the manicure made popular when Julia Roberts walked the red carpet a few months ago. What makes it special are the tiny crystals Mazz selects (based on what she senses you need)—she chose moonstone and labradorite for my nails—and skillfully adds to your nails. We need to talk about her skin-care brand, Mazz Hannah, which has products like Carnelian Infusion Skin Salve with CBD, and the cult classic Cuticle Oil with an Amethyst Roller Ball. All her crystals in the products have been blessed by a shaman, and she sources all her crystals from only the best mines worldwide. Can you say "om"?
How to get in touch: mazzhanna.com.
Angie Banicki
Talk about career shifts; Angie Banicki was an entertainment publicist before she left corporate America to be a full-time tarot card reader. She had an uncanny ability to spot the next big thing as a publicist, and she moonlighted with tarot for fun. I have had a lot of tarot card readings in my day, but Angie's style was particularly unique. First of all, she uses multiple decks and channels through a shuffled playlist. Secondly, it's the locale: a magical white-and-purple tree house filled with angels, magic, and music. She is known for her ability to home in on exact timing and help guide her clients through challenges. As new songs come on, she uses them as guides to dive deeper into the spread that lies before her. At the end of the reading, she emails you the playlist along with a breakdown of numerology for the year you are in.
How to get in touch: angiebanicki.com.
When I first met Deganit, I just felt bubbling light. She has such an effervescence that is contagious. We talked about how she pursued a career in dentistry until she realized she was clairvoyant. Now a licensed acupuncturist and certified herbalist, she combines acupuncture with a psychic reading.
I went to visit her at the Four Seasons, where she has residencies in L.A. and NYC. After a few health-related questions, she put four different types of oils on my body, put the needles in, and then rang the fairy chimes. As she sat by my side, she started to channel. She concentrated on healing my karma from past lives and gave me insight to my current state of energy. When we were finished and the needles were removed, she came back into the room with a mantra created for me.
Deganit is mostly booked at her Four Seasons residency, but she is available for phone sessions. She also recently started an education course to develop your intuition. I think there is nothing better than mastering yourself; check out the course at nuitschool.com.
How to get in touch: nuurvana.com.
Want more stories like this?
How to Choose the Right Crystals

What I Learned from My Aura Reading

A Session with Kylie Jenner's Crystal Healer