this is manifestation 5. the fifth iteration of samuelle green's handmade installation, which began simply as a way to transform an unappealing space with humble materials that were on hand. but something was special about those radiating cones of paper. with each iteration, she learned something new, experimenting with decaying and fresh pages to create a myriad of shades and textures. now, manifestation 5 is featured as part of 'without a solitary object of vision', a show curated by rashmi viswanathan in new york city.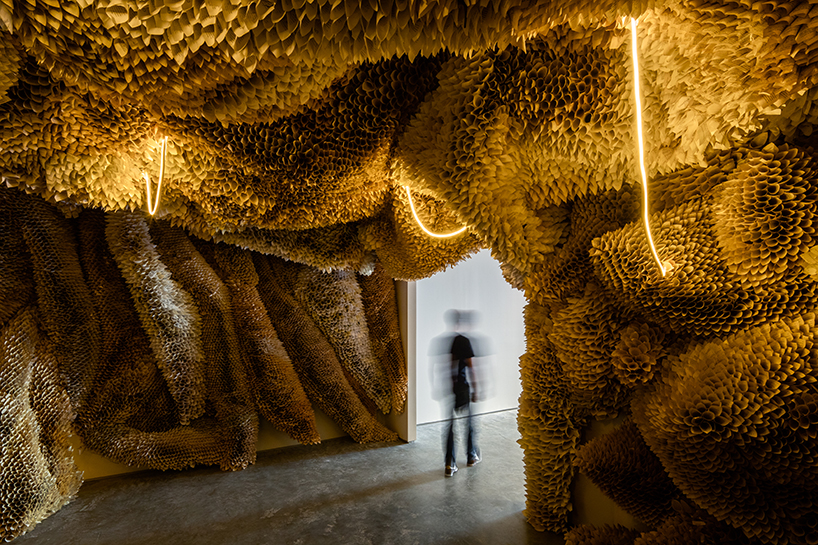 image courtesy of 601artspace/rafael gamo
samuelle green's manifestation 5 is on view from now until may 5, 2019, at 601artspace, 88 eldridge street, in new york. alongside green's radiating coral reefs of paper cones is artist amina ahmed's featured work, 'pondering the fish'. ahmed's installation further transforms the new york warehouse into a walking museum of contemplation via her large-scale, repetitive linework.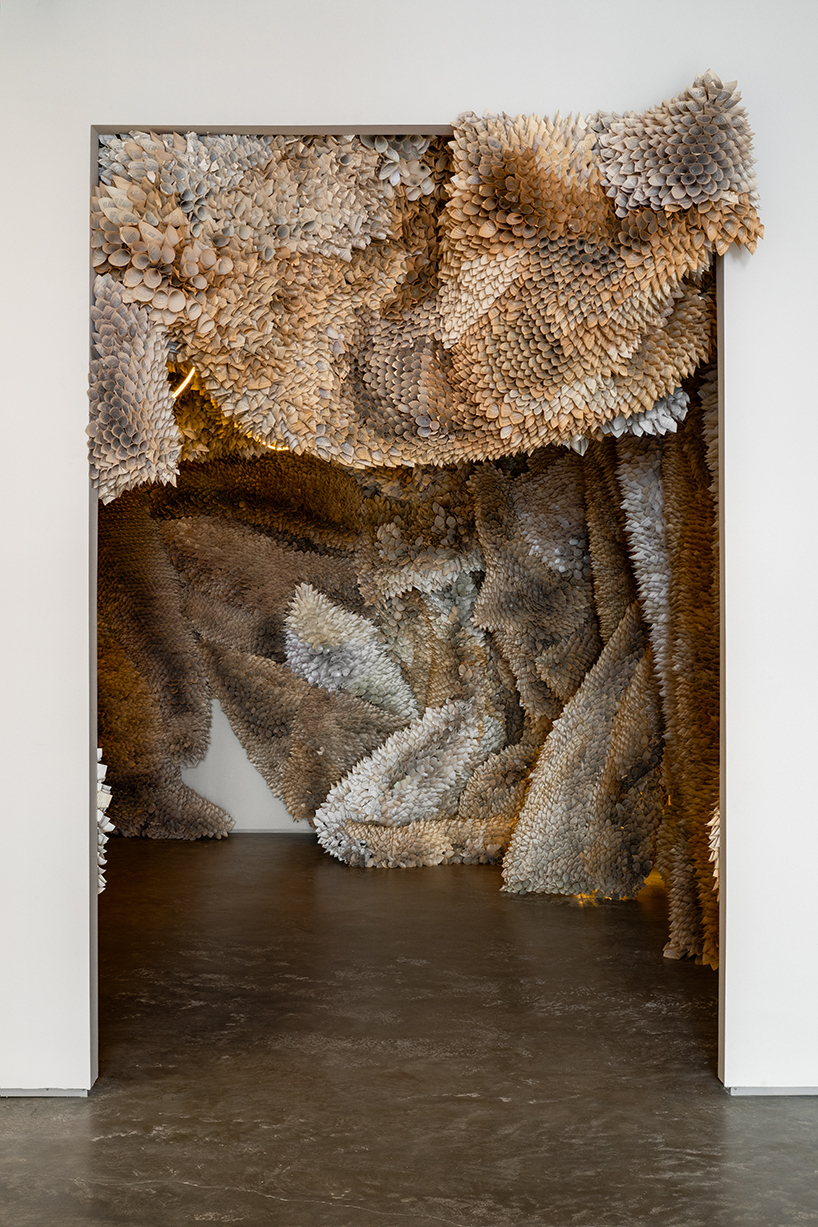 image courtesy of 601artspace/rafael gamo
green's forms swell like a dry, underwater symphony, with notes as light and fragile as old paper. the individual pieces blend together. like an attic of books come alive, the viewer has much to swim around in. 'there is no discernible sequence or grouping of objects here,' says the curator, 'no clear focus, no solitary object of vision. the work purposefully disorients, inviting full body experiences of color and texture…'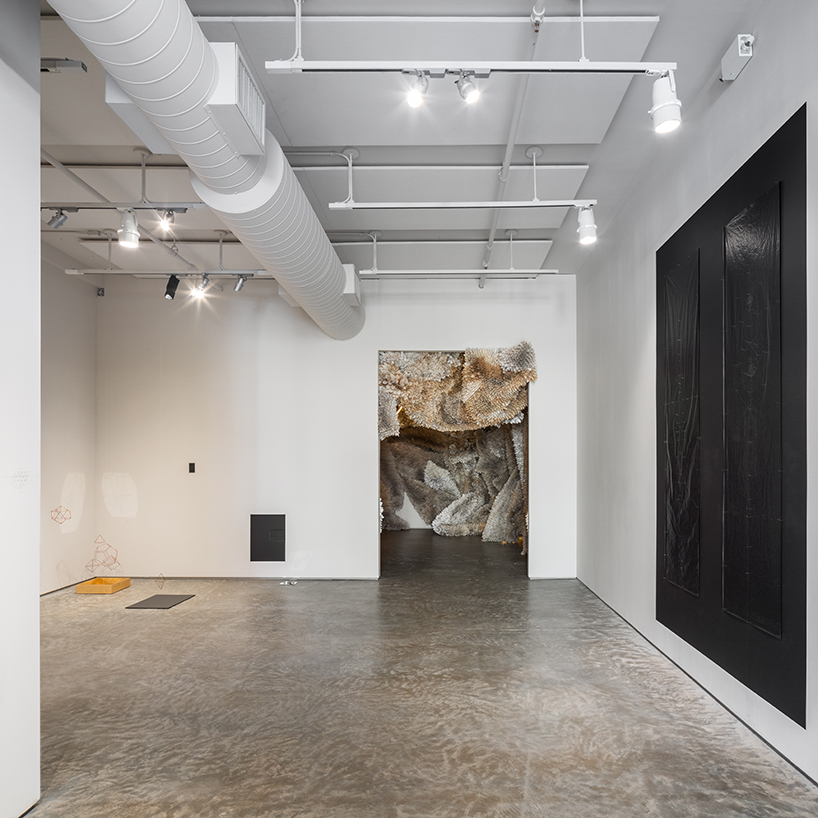 image courtesy of 601artspace/rafael gamo
seeing such an organic bee hive of repetition points to a go-with-the-flow, artistic process, but green explains otherwise. 'I also make paintings and drawings and they are thought out before the process begins. I can see what I want to paint in my head.' like a photocopy in her head, she holds onto that image and works to replicate it, so we can enjoy it, too.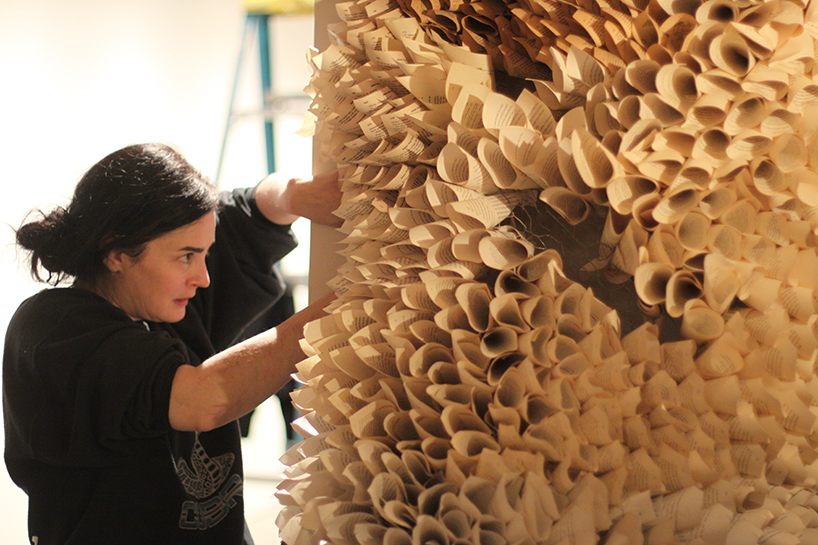 image courtesy of 601artspace/francis estrada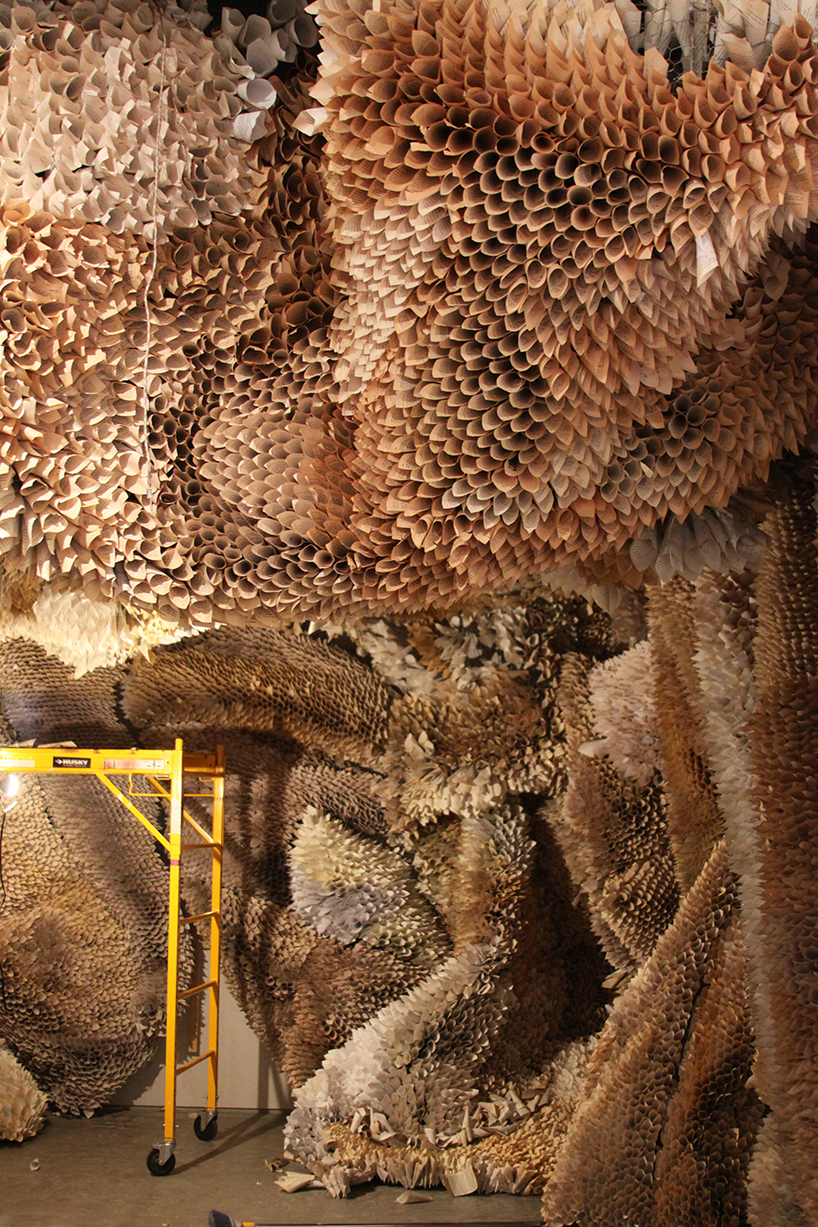 image courtesy of 601artspace/francis estrada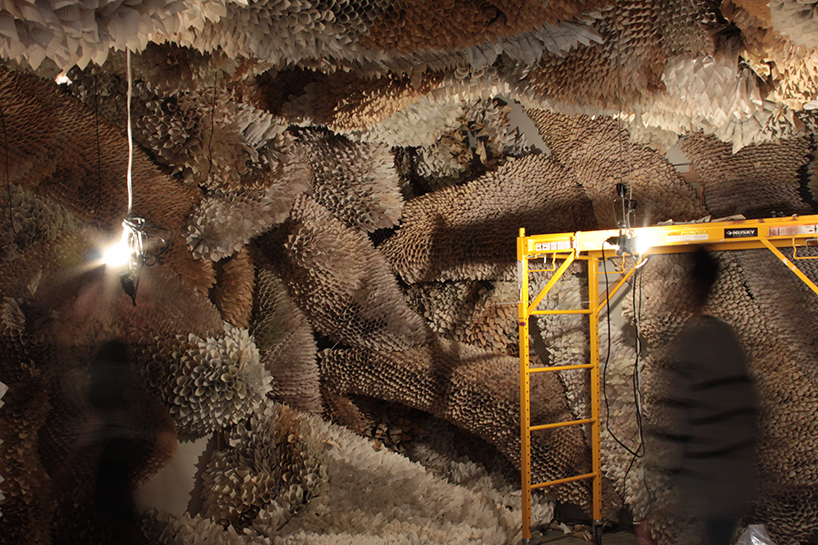 image courtesy of 601artspace/francis estrada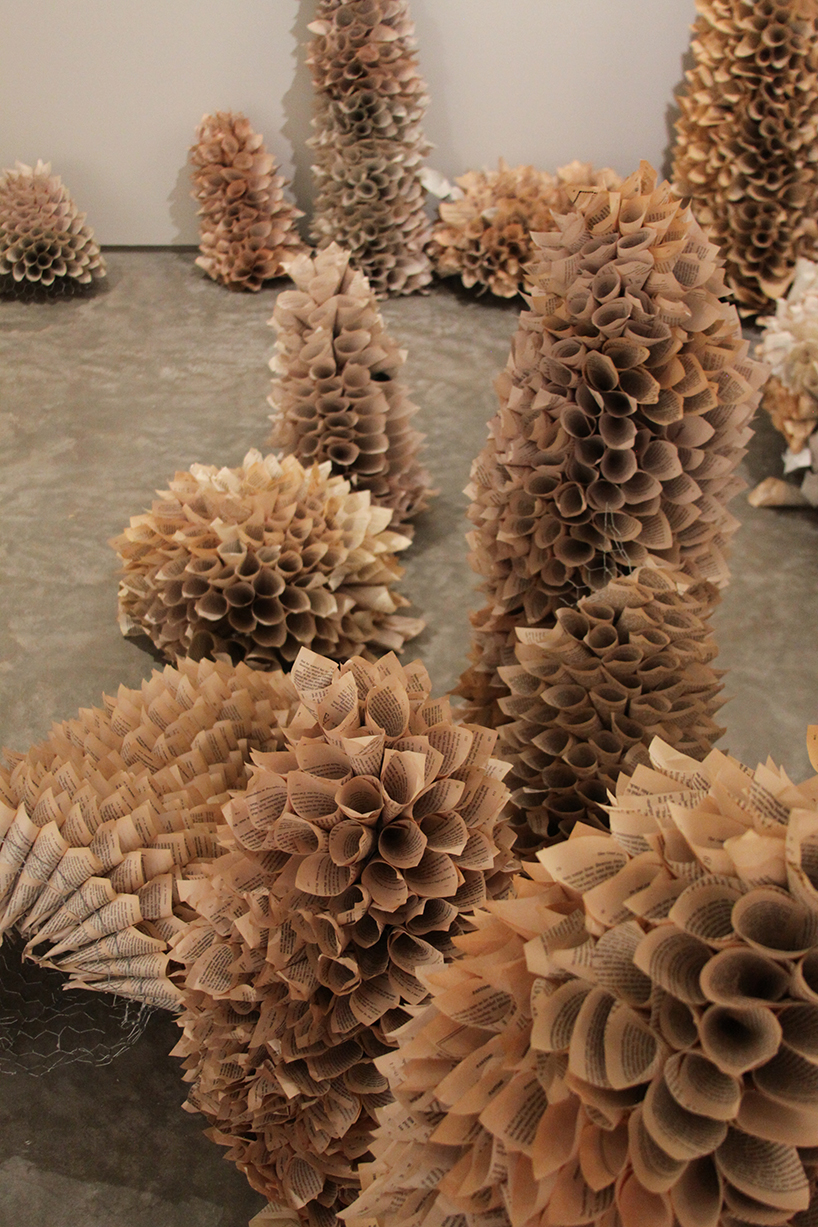 image courtesy of 601artspace/francis estrada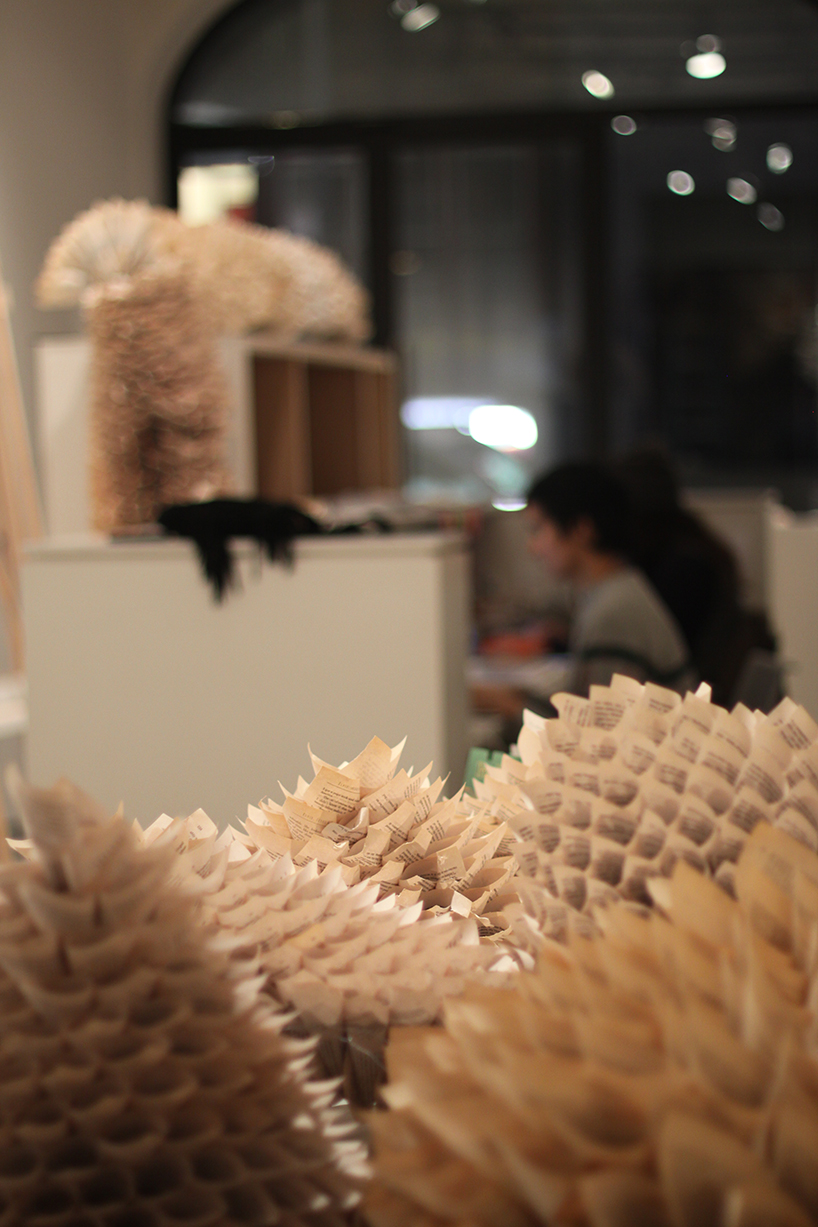 image courtesy of 601artspace/francis estrada
zach andrews I designboom
apr 28, 2019